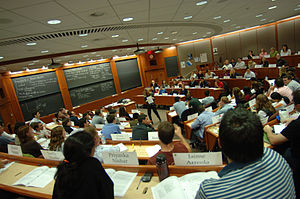 You're likely investing $20,000-$50,000/year, plus opportunity cost, to attend school.  How can you maximize the benefits of all the years and all the money that you are investing?
I have a tentative answer.  Below is the draft of a book I'm writing tentatively titled, "How to Hack Your Education".   I've also posted slides from presentations I've made on this topic.
I wrote this book for my personal reference, for my friends starting college/graduate school, and for my children.  My main focus is graduate MBA and undergraduate business students, but the principles I discuss are relevant regardless of the exact subject you are studying.
To prepare this paper I interviewed many of my Yale and Harvard Business School classmates on what were the most effective uses of their time during school.  I also probed to learn about what were the least effective uses of their time.
Among the topics I cover: career planning, time optimization, and selective short-term learning programs and scholarships.   
A few other people have covered this topic.  See  this New York Times op-ed feature, "Ditch Your Laptop, Dump Your Boyfriend," which profiles several college students' advice to incoming freshmen.  Another source of school-related advice, Hackcollege.com, offers college students myriad suggestions to take advantage of their college experience: for example, their "Deals of the Week" suggests relevant bargains for cash-strapped students, for everything that a college student needs to survive: free TV show downloads, discounted appetizers at Chilis, etc.
I'd greatly appreciate any feedback you have on the book.  I've been gestating this since 1992.
Photo: Inside a Harvard Business School classroom (Wikipedia)