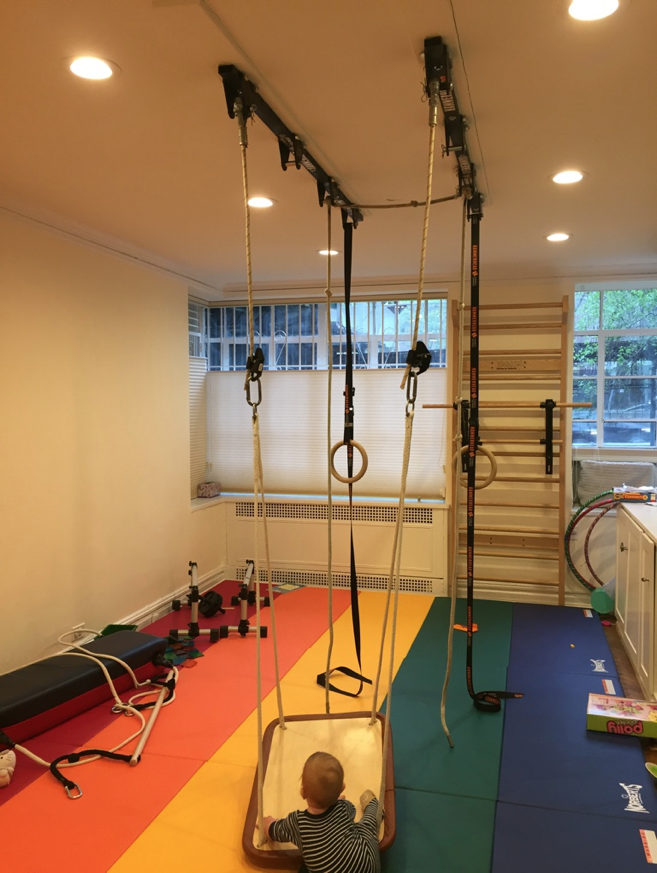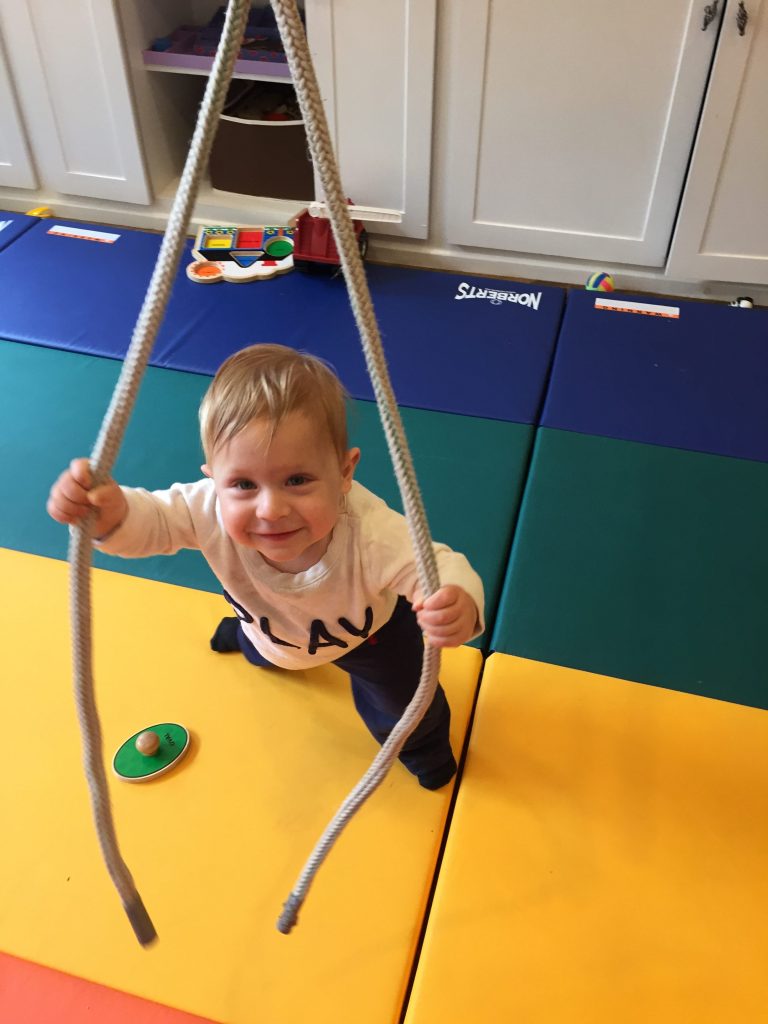 What is the best way to create maximum workout options in a New York apartment?
I spent a fair amount of time researching the best system for the workout room/playroom in our new apartment, which we designed around fitness.  ("Playroom" really means "room for adults to work out in and occasionally let children into".)  The solution we arrived at costs a lot less than a regular playroom and has dramatically more functionality.  Our total cost, including installation of a ceiling mount, was only a few thousand dollars.  It will pay for itself within 2 years because we're hosting our kids' birthday parties here rather than going to a local gymnastics facility.
Our kids love this, and we're getting at least two dozen person-hours of play value per week.  They are constantly finding new permutations for combining the apparatus, e.g., jumping from the rings onto the trapeze.  Plus, this is where I work out, without paying for a gym.
The hardest part: we were looking for a system where we could do gymnastics/circus/Crossfit exercises, which meant specifically we wanted:
– trapeze bar – see Trapeze Strength Training or Static Trapeze Solo;
– pull-up bars (which the trapeze bar can double for);
– hanging gymnastics rings – see 80 Strength Exercises for your Home Gymnastics Rings;
– climbing rope;
– swing (e.g., this one); and
– aerial yoga (e.g., Yoga Swings).
For safety, we wanted to attach only one apparatus at a time.  For saving money and space, we wanted to use the same connector (e.g., rope or strap) for as many of the apparati as possible.  Each apparatus needed a connector which worked with the ceiling mount.  We also had to buy apparatus made of wood or plastic, not metal, so that we weren't concerned about heavy objects hurting children who inevitably would bang against it.  Lastly, it had to be trivial to raise or lower all of the equipment, for use by everyone from toddlers to adults.
After a lot of research, we installed:
Gymnastics ladder: the DGS-WS834 Workstation with a Multi-Bar from Deary's Gymnastics Supply
Hammerhead Adjustable Ceiling Mount System. I prefered the Hammerhead ceiling mount over numerous other options because it distributed the weight across about 5 ceiling beams instead of one; we installed it perpendicular to the ceiling. Tip: We used a plastic drain pipe connector cut in half and wrapped around the ceiling mount's rods in order to prevent the splice from noisily banging against and abrading the Hammerhead mount.
Hammerhead gymnastic rings.  Tip: The metal D-rings on the gymnastic rings tend to scratch the wooden rings.  I made a simple blocker to stop this out of a ring of duct tape.  You could also use another plastic drain pipe connectors for this purpose
Southpaw eye splice and therapy rope (must be ordered as a set), plus height adjuster with safety snap
Southpaw bolster swing
Norberts' Power Panel Mat with hook and loop fasteners, in rainbow design, which looks great.  Norberts' mats are more expensive than some of the others, but we saw a lot of complaints about odor and durability for competitive mats, and are happy with the Norberts option. GreatMats has a mat comparison table.
B4 Adventure Ninja line, which comes with a great set of accessories for American Ninja – style training.    This is basically two slack lines, sewn together every 16 inches, with a gap every foot for attaching accessories to the rope. If you find this sags too much, I suggest try a knotted climbing rope or a static rope., with a prusik made from webbing.
Southpaw and Deary's Gymnastics Supply in particular have a lot of excellent resources for a playroom, and have excellent customer service.  We also liked FireToys, which was helpful in my research.  Our contractor was KJ Remodeling and our architect was Jorge Fontan.  They were both very professional and we would work with them again. I also recently found Project Playroom, which sells very relevant equipment focused on younger kids.
Our biggest challenge was figuring out a versatile mount from which to hang the equipment. In ascending order of cost and complexity, our options were fourfold:
1) DOOR MOUNT
I looked at the Gorilla Gym, which is a set of fitness accessories (swing, trapeze, rope, rings, and ladder) all designed to fit inside a doorway.  The engineering is very clever: it weighs 8 pounds, but can support 300 pounds.  I know the co-founder, Kiril Stefan Alexandrov, through the International Economic Alliance.  He first marketed the Gorilla Gym as an adult fitness product, but the company has found that it's most popular with children.  It wasn't ideal for our use case, because we were looking for a longer swing length than is normal for a doorway.   We also wanted to install this from the ceiling, not a doorway, for more freedom of motion.
2) WALL MOUNT
We bought a gymnastics ladder (DGS-WS834 Workstation with Multi-Bar), which provides a lot of options for exercise in minimum space.  (Tip: I recommend ask Deary's Gymnastic Supplies to send you a wider-than-usual wooden bar and pads to prevent scratching by the multi-bar of the underlying ladder.)  For ideas on what you can use a Stahl Bar or Gymnastics ladder for, see 17 Ways to Use a Stahl Bar  and 24 Hardcore Strength & Flex Moves.
We also looked at options which allow for more mobility than a multi-bar, e.g., Hammerhead's Muscle-Up Bracket .  This protrudes 4 feet from the wall, which allows for a lot of room for spins, muscleups, and other more acrobatic moves.
We thought about setting up a climbing wall ; see these creative implementations of an indoor climbing wall.  However, our problem is that this is New York, so every square inch is precious, so we unfortunately passed on that idea.
3) CEILING MOUNT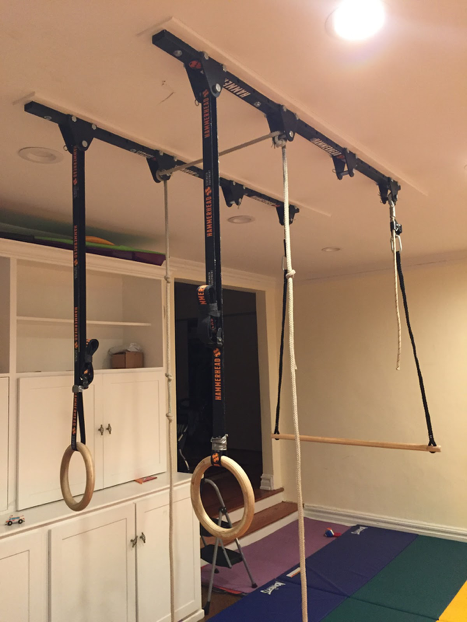 We found two options for a ceiling mount:
Buy two heavy-grade unistrut channel steel bars and mount them in parallel to one another, 23 inches apart, on the ceiling.   We'd attach swivel eye bolts in the locations from which we want to hang items, one eyebolt every 12 inches.  (This is the recommended maximum monkey bar span for young children).  The swivel accomplishes two goals: reduce vibration to the neighbors upstairs, and also reduce the risk of the eyebolt gradually working loose over time, which is a safety concern.  Even better would be to attach a combination carabiner/eye bolt on a swivel, attached to an eyebolt that screws to the ceiling, and supports a minimum of several hundred pounds.  However, I did not find such a device.
One expert I consulted said, "I would highly recommend you consult with an experienced aerial circus rigger when planning how this will be rigged. Dynamic forces are going to put a lot of strain on any rigging points and the structure itself. The forces will travel through the beams, so the loads will need to be calculated along the path they will be travelling; all that force is going to go directly into those beams, and if they're already carrying live loads, then you need to know how much load they're carrying and whether there's enough capacity left to safely load them further. A very general rule of thumb is you can use 5% of a beam's overall capacity for aerial. It would also be good to know that the force isn't going to cause damage to the floor above or below as it travels through the beams, I've heard of tiles being shaken off roofs because this aspect wasn't factored in."  He referred me to this article on how aerial points can be installed, and recommended only buying items with a documented Working Load Limit (WLL).
Another option: Nate Jenkins, co-founder of Authorea.com, suggested repurposing standard climbing gear: pass a sling through each apparatus and clip the two ends into a carabiner, which is hanging from the straps which are attached to the ceiling. It would take a few seconds to clip in or out of the carabiner. This offers some convenience for switching between exercises, especially for kids who might not be tall enough to access any sort of hooks.  The advantage of the sling over a rope is that's easier to undo/redo the attachment, e.g., if you want to change the length.  The Southpaw products come with a carabiner with a 1000-pound weight limit, which works very well.
4) FLOOR MOUNT
The strongest option is to set up a custom rig supported from the ground.  Building a floor-based support is the easiest and probably safest path, but uses up floorspace and looks less attractive.   See a home-made sample in this photo from X-Fit Training NYC.  Here's a detailed article on how to build a custom pullup station.
NEXT STEPS
The last major accessory for the room: we'd like to put in an unbreakable mirror on two of the walls.  Also, the gym mats collect dust at their interstices; I'm looking for a good solution for that.  I welcome suggestions.
For further reading:
DISCLAIMER
You take all responsibility for any loss of life, limb, or other damage caused by implementing any of these ideas.  Your kids will probably pick up a few bruises in this room.